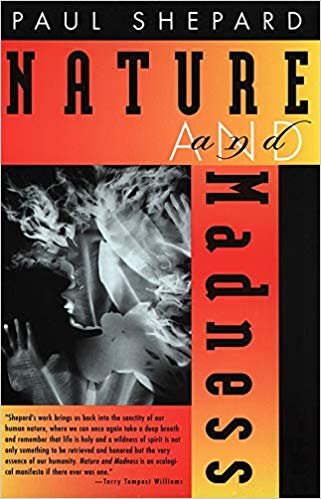 Nature and Madness
Paul Shepard
Why do men persist in destroying their habitat? In Nature and Madness, Paul Shepard offers a trenchant and well-argued philosophical response that even he acknowledges doesn't fully explain the problem. It's not just greed that leads men to tear down forests and rip up the land in search of riches, though that plays a role. Nor is it the Anglo-European-American devotion to increasing efficiency, though that also drives people to leap before they look.
Rather, Shepard observes, man causes environmental havoc because of our inherent immaturity. We simply haven't grown up enough to handle our responsibilities to things wild. Adults bent on degrading nature behave like infants who smash and grab because that is what's easiest and feels good. Maturity, after all, is supposed to convey to adults a measure of restraint, thoughtfulness, and self-awareness. When it comes to natural systems, most adults act like three-year-olds throwing tantrums.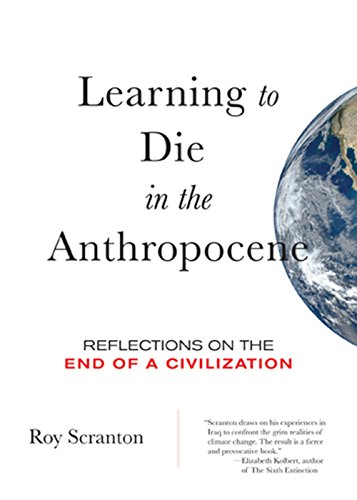 Learning to Die in the Anthropocene: Reflections on the End of a Civilization
Roy Scranton
In this bracing response to climate change, Roy Scranton combines memoir, reportage, philosophy, and Zen wisdom to explore what it means to be human in a rapidly evolving world, taking readers on a journey through street protests, the latest findings of earth scientists, a historic UN summit, millennia of geological history, and the persistent vitality of ancient literature. Scranton responds to the existential problem of global warming by arguing that in order to survive, we must come to terms with our mortality.
Plato argued that to philosophize is to learn to die. If that's true, says Scranton, then we have entered humanity's most philosophical age–for this is precisely the problem of the Anthropocene. The trouble now is that we must learn to die not as individuals, but as a civilization.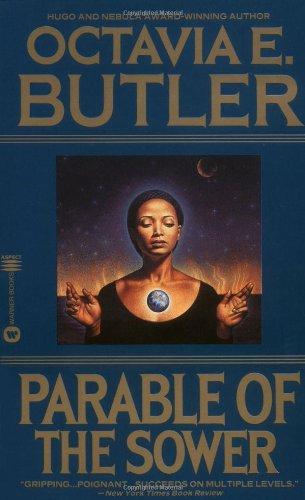 Parable of the Sower
Octavia E. Butler
Set in the 2020s where society has largely collapsed due to climate change, growing wealth inequality, and corporate greed, Parable of the Sower centers on a young woman named Lauren Oya Olamina who possesses what Butler dubbed hyperempathy or "sharing" – the ability to feel pain and other sensations she witnesses. As a teenager growing up in the remnants of a gated community near Los Angeles, she begins to develop a new belief system, which she comes to call Earthseed. When the community's security is compromised, her home is destroyed and her family is murdered, and she travels north with other survivors. Society outside the community walls has reverted to chaos due to resource scarcity and poverty, and mixed race relationships are stigmatized amid attacks against religious and ethnic minorities. Lauren believes that humankind's destiny is to travel beyond Earth and live on other planets, forcing humankind into its adulthood, and that Earthseed is preparation for this destiny. She gathers followers along her journey north and founds the first Earthseed community, Acorn, in Northern California.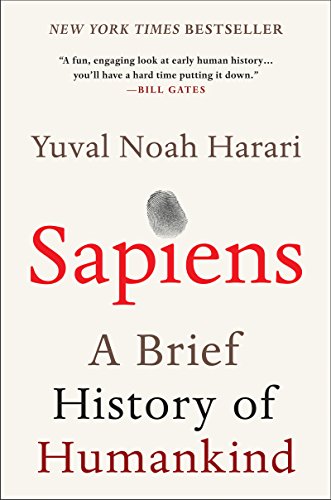 Spapiens
Yuval Noah Harari
Most books about the history of humanity pursue either a historical or a biological approach, but Dr. Yuval Noah Harari breaks the mold with this highly original book that begins about 70,000 years ago with the appearance of modern cognition. From examining the role evolving humans have played in the global ecosystem to charting the rise of empires, Sapiens integrates history and science to reconsider accepted narratives, connect past developments with contemporary concerns, and examine specific events within the context of larger ideas.
Dr. Harari also compels us to look ahead, because over the last few decades humans have begun to bend laws of natural selection that have governed life for the past four billion years. We are acquiring the ability to design not only the world around us, but also ourselves. Where is this leading us, and what do we want to become?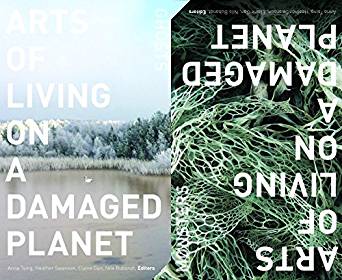 Arts of Living on a Damaged Planet
Anna Lowenhaupt Tsing
Living on a damaged planet challenges who we are and where we live. This timely anthology calls on twenty eminent humanists and scientists to revitalize curiosity, observation, and transdisciplinary conversation about life on earth.
As human-induced environmental change threatens multispecies livability, Arts of Living on a Damaged Planet puts forward a bold proposal: entangled histories, situated narratives, and thick descriptions offer urgent "arts of living." Included are essays by scholars in anthropology, ecology, science studies, art, literature, and bioinformatics who posit critical and creative tools for collaborative survival in a more-than-human Anthropocene. The essays are organized around two key figures that also serve as the publication's two openings: Ghosts, or landscapes haunted by the violences of modernity; and Monsters, or interspecies and intraspecies sociality. Ghosts and Monsters are tentacular, windy, and arboreal arts that invite readers to encounter ants, lichen, rocks, electrons, flying foxes, salmon, chestnut trees, mud volcanoes, border zones, graves, radioactive waste—in short, the wonders and terrors of an unintended epoch.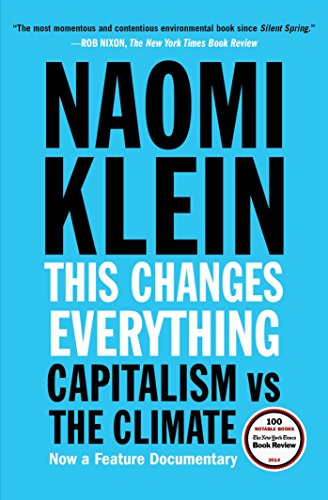 This Changes Everything: Capitalism vs The Climate
In This Changes Everything Naomi Klein argues that climate change isn't just another issue to be neatly filed between taxes and health care. It's an alarm that calls us to fix an economic system that is already failing us in many ways. Klein meticulously builds the case for how massively reducing our greenhouse emissions is our best chance to simultaneously reduce gaping inequalities, re-imagine our broken democracies, and rebuild our gutted local economies. She exposes the ideological desperation of the climate-change deniers, the messianic delusions of the would-be geoengineers, and the tragic defeatism of too many mainstream green initiatives. And she demonstrates precisely why the market has not—and cannot—fix the climate crisis but will instead make things worse, with ever more extreme and ecologically damaging extraction methods, accompanied by rampant disaster capitalism.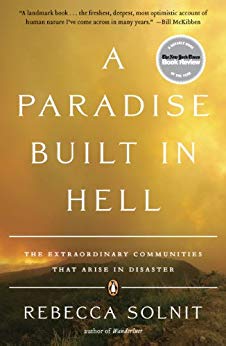 A Paradise Built in Hell
Rebecca Solnit
Natural and man-made disasters can be utopias that showcase human solidarity and point the way to a freer society, according this stimulating contrarian study. Solnit (River of Shadows) reproves civil defense planners, media alarmists and Hollywood directors who insist that disasters produce terrified mobs prone to looting, murder and cannibalism unless controlled by armed force and government expertise. Surveying disasters from the 1906 San Francisco earthquake to 9/11 and Hurricane Katrina, she shows that the typical response to calamity is spontaneous altruism, self-organization and mutual aid, with neighbors and strangers calmly rescuing, feeding and housing each other. Indeed, the main problem in such emergencies, she contends, is the elite panic of officials who clamp down with National Guardsmen and stifling regulations. Solnit falters when she generalizes her populist brief into an anarchist critique of everyday society that lapses into fuzzy what-ifs and uplifting volunteer testimonials. Still, this vividly written, cogently argued book makes a compelling—and timely—case for the ability of ordinary people to collectively surmount the direst of challenges.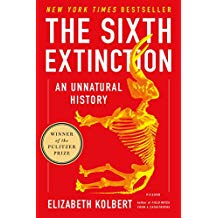 The Sixth Extinction: An Unnatural History
Elizabeth Kolbert
A major book about the future of the world, blending intellectual and natural history and field reporting into a powerful account of the mass extinction unfolding before our eyes
Over the last half a billion years, there have been five mass extinctions, when the diversity of life on earth suddenly and dramatically contracted. Scientists around the world are currently monitoring the sixth extinction, predicted to be the most devastating extinction event since the asteroid impact that wiped out the dinosaurs. This time around, the cataclysm is us. In The Sixth Extinction, two-time winner of the National Magazine Award and New Yorker writer Elizabeth Kolbert draws on the work of scores of researchers in half a dozen disciplines, accompanying many of them into the field: geologists who study deep ocean cores, botanists who follow the tree line as it climbs up the Andes, marine biologists who dive off the Great Barrier Reef. She introduces us to a dozen species, some already gone, others facing extinction, including the Panamian golden frog, staghorn coral, the great auk, and the Sumatran rhino. Through these stories, Kolbert provides a moving account of the disappearances occurring all around us and traces the evolution of extinction as concept, from its first articulation by Georges Cuvier in revolutionary Paris up through the present day. The sixth extinction is likely to be mankind's most lasting legacy; as Kolbert observes, it compels us to rethink the fundamental question of what it means to be human.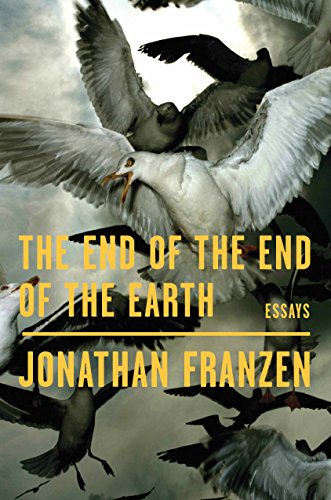 The End of the End of the Earth
Jonathan Franzen
Franzen's great loves are literature and birds, and The End of the End of the Earth is a passionate argument for both. Where the new media tend to confirm one's prejudices, he writes, literature "invites you to ask whether you might be somewhat wrong, maybe even entirely wrong, and to imagine why someone else might hate you." Whatever his subject, Franzen's essays are always skeptical of received opinion, steeped in irony, and frank about his own failings. He's frank about birds, too (they kill "everything imaginable"), but his reporting and reflections on them—on seabirds in New Zealand, warblers in East Africa, penguins in Antarctica—are both a moving celebration of their beauty and resilience and a call to action to save what we love.